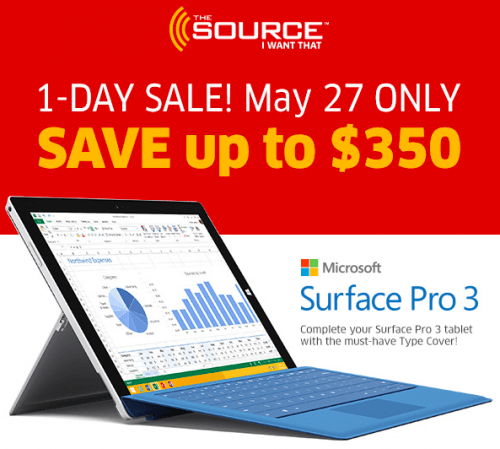 For today only, the Source Canada is having a special sale on all Microsoft Surface Pro 3's, and in this sale you will be able to save up to $350 off on the regular price of select models. The Surface Pro 3 that you will be able to save this much on is the Surface Pro 3 with 512GB of storage.
Of course, if you don't think that you'll need quite that much storage, nor are you willing to pay $1999.99 (as it was previously being sold for $2,349.99), then you could pick up the Surface Pro 3 with 256GB of storage. This model only costs $1,599.99, though it was previously being sold for $1,849.99. No matter which Surface Pro 3 you pick, your model will come equipped with an Intel Core i7 Processor.
If you're looking for the accompanying accessories for the Surface Pro 3, then you can also pick them up at the Source, though they are not being discounted like their counterparts. For instance, the Surface Pro 3 Type Cover is being sold for $159.99, and the Surface Pen is being sold for $49.99. While these prices aren't the best, they do appear to be the going rate for these accessories, as all of the other retailers (Staples, Best Buy, Amazon.ca, Microsoft, etc.) were selling them for the same price, if not more.
The Source offers free-shipping on all orders that are $25 or more.
Click here to begin shopping the one-day sale at the Source Canada.