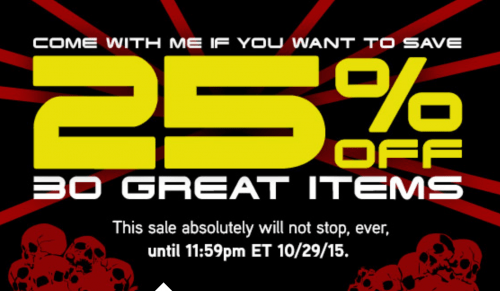 ThinkGeek Canada is celebrating the anniversary of the release of the original Terminator on October 26, 1984 with 25% off 30 great items online! The items on sale aren't related to Terminator, but you can save on some cool items from a variety of your other favourite games, series, and books! ThinkGeek's prices are in USD, so your deals may not be as hot after conversion, but Think Geek does offer a variety of geeky items, many of which you can't find anywhere else!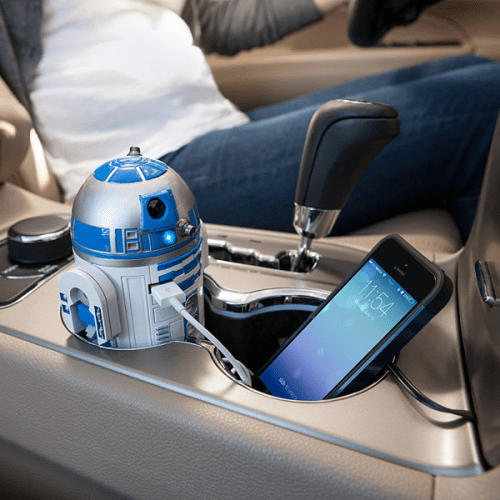 Star Wars fans can save on this R2-D2 USB Car Charger from ThinkGeek. Originally sold for $39.99USD, you can purchase it for $29.99USD as part of today's Terminator sale. This ThinkGeek exclusive fits in your car's cup holder and has 2USB charging ports, each of which provide 2.1 Amps, so you can charge your phone and tablet at the same time. R2 also makes his famous noises when he sees a device without power, or when he's ready to charge. His eye also lights up and spins, making it both a useful and fun device to own.
The better deals at ThinkGeek right now are on Halloween Costumes and accessories which are up to 50% off. There are a few items which are discounted even higher than that, like this Iron Man Glow Costume Tee. This exclusive ThinkGeek shirt originally sold for $19.99USD, but you can now save 75% off and get it for only $4.99USD! This 100% cotton tee is modelled after Iron Man's Armour and includes a arc reactor that glows in the dark! Not only is it great for Halloween, but for any time you feel like showing your love for Iron Man!
The Terminator sale ends October 29, 2015. Deals on Halloween Costumes are on for a limited time only, or while supplies last. No promo code is needed for these promos. All prices are listed in USD. ThinkGeek charges shipping to Canada.
Click here to begin shopping online at ThinkGeek Canada.