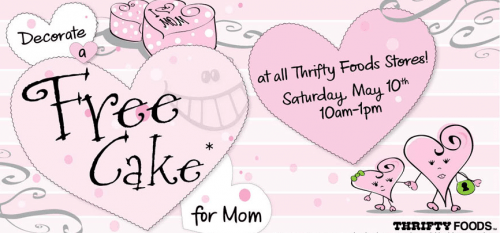 Thrifty Foods Canada is holding a fun Mother's Day event at Thrifty Food stores in Canada where you and your kids can decorate a cake for FREE. Wow, free cake seems too good to be true! What a special treat for your mom this Mother's Day. The event takes place in the morning of Saturday, May 10th, 2014 from 10am to 1pm. Make sure you get to the store early because its only valid for the first 200 children who are ages 12 and under.
One cake per child. Remember, the offer is only valid on May 10th from 10am-1pm.
Click here to find a Thrifty Canada location nearest you!