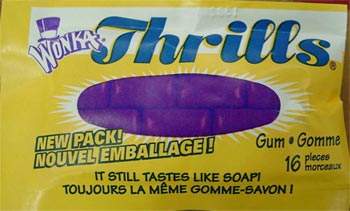 Walking to the post yesterday I step on something with that all too familiar "scrunch."
Eww gum.
But.. not just any ordinary gum, Thrills gum.
Tastes like soap.  I would've spit it out if I were that person too.
So in light of my "adventure" and upcoming Canada day I thought I'd share one of Canada's prides Thrills Gum.
Have any of you ever tried to explain this gum to someone not from Canada?
My dearest friend Katie from Texas and I once had this conversation.
"Ever tried thrills gum when you visited Canada?"
"Nope, why?"
"It tastes like soap"
"Get real, soap? No gum tastes like soap."
"Thrills gum does!"
Thrills gum is available in Canada and has been since the 70's, although on sites like www.canadianfavourites.com and www.canadaonly.ca anyone can order it and have it shipped to them. I'd save the shipping and just take a bite  out of a soap bar if I were them hehhehe. It's also available at dollar stores for around 2 for $1.00 for those few from Canada that haven't experienced soap gum.
So do you love or hate Canada's own soap gum?
Other  "Canadian'isms" to be continued in the near future…..