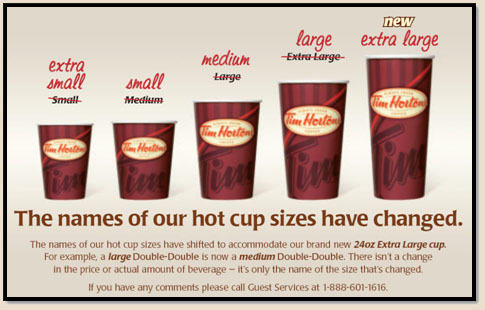 @TimHortons
I was just checking my Facebook news feed and a friend of mine posted this link about the new sizes of hot drink cups at Tim Hortons.  I love my coffee and I can't wait to try out the new extra large size.  I'm thinking I might have to make it a triple triple instead of my usual double double though.  There will not be a change in price to cup sizes they just renamed, but it doesn't say how much the new extra large will be. They will be introduced across the country starting on January 23.
Here are the details from Tim Hortons:
Tim Hortons announced it will be brewing its biggest cup yet, with this month's introduction of a brand new extra large cup. Beginning January 23rd, the new cup will offer coffee lovers across Canada a premium quality, extra large coffee at a value price.
To accommodate the brand new cup, the names of the other hot cup sizes have shifted: the original small is now extra small, the medium is now small and so forth. The change in names of the hot cup sizes will apply to all hot beverages – guests will still receive the same amount of coffee for the same price, only the name of the size has changed.
*reminder*