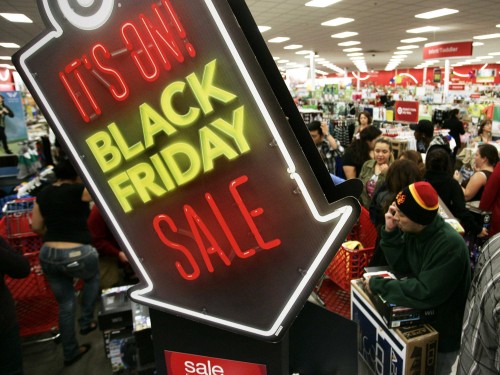 Braving the Black Friday sales? We have some shopping tips to help you get the best deals
Prepare
Know your prices! Some stores will add in regular priced items in their Black Friday flyers knowing people will buy thinking it is a good deal.  Make a list of the items you want to buy and what you are prepared to pay for them.  Not all deals will be advertised so you may find your price in-store.  We have flyers and ads listed for pretty much any store you could want to shop at.
Set a budget! Door-crashers and unadvertised sales plus random items you just have to have can be tempting, know how much you want to spend.  Buyers remorse is no fun and Black Friday is pointless if you overspend.
Where to shop? Heading across the border may get you better deals but the line up at border crossings may be long and customs is happy to take your money when you come back, factor in the duty when considering prices.
Start early! Most deals are limited quantities and the best deals go early.  Many stores are opening early (and some even started this morning).  Prioritize which shops you want to visit and the best locations to hit all of them.  If you want a great deal that is likely to go quickly, consider travelling a little further to smaller cities that may be less busy.  Check if your stores will price-match one day sales for Black Friday, you may be able to save yourself considerable time by price-matching (check out our blog on Price-Matching Black Friday Deals)
On the Day
Wear comfortable shoes. I know I know, common sense right? I saw someone break an ankle in the mall on Boxing Day a few years back fighting the crowd in crazy high heels, I doubt she found any deals that day.
Be prepared to check a few stores for that deal, we have all been there, get to the store within minutes of opening to find they have no stock.  Maybe even call ahead to see if they will have stock and how many.  For big ticket items, they may give out tickets to people waiting before they open.
Remember it is a work day for many, if you are heading from the suburbs, add plenty of time for dealing with commuters trying to get to work too.  Even with the Eaton Centre opening at 6, Toronto roads can be busy, I am sure the same is true for other areas.
Sad but true, big shopping holidays like Black Friday and Boxing Day will bring out criminals.  Make sure any valuables are out of sight, keep bags with you when you can and watch for pickpockets.  Waiting for Cyber Monday? Make sure that your mail-person will not leave items at the door if you are not home, December is a prime time for stealing mail.  I have had UPS leave a laptop on my doorstep but make me pick up a set of kitchen utensils that were delivered the same day!
Keep your receipts. We have all come home and wondered what happened to that receipt, make sure you keep them, especially for big ticket items.  I usually stick an envelope in y purse and put them all in that rather than my wallet so I don't risk losing them when I pull cash out.  You may need the receipt for a return on a faulty item or for proof of purchase for warranty.
What is on your list?