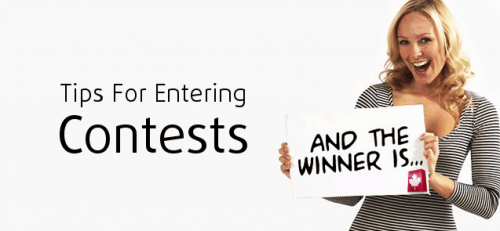 See people entering contests and wish it could be you winning? SmartCanucks' member koala shared her tips and tricks for winning contests with us in the contest forum.
Nothing beats the high of receiving that Congratulations email, or "the" phone call.  On occasion, notification may arrive by mail, or will just arrive at your doorstep.  No matter by what method you receive your win, it is an amazing feeling.  Just remember, if a notification involves money, it's a scam. Legit contests do not ask for money.
Canadian Law stipulates that a skill testing question be asked. A simple mathematical question is all that is usually required.
Always Follow the Rules!
Read the rules: Make sure you read the Official Rules. If you an ineligible because of age, where you live, or anything else in the rules, do not enter. You will be disqualified.
Enter As many times as you are allowed: If you are entering online sweepstakes then entering daily is a good idea and doesn't cost you anything except for your time.
Enter for prizes you want to win: Don't enter a sweepstakes just to enter and get something free. You should enter to win prizes you can use, need, or can give away to a family member or friend.
Install a Form Filler program to make entering faster: Using a program such as RoboForm can save you time when entering online. It stores all of your personal data like name, address, phone, and email address. Some browsers will also keep this information to enter.
Again read your rules:  You'll see something like: "Should it be discovered that an entrant is using the aid of computer programs to auto-fill entries, that entrant will be immediately disqualified from the Contest."
Enter at least one time if you are at all interested: The more giveaways you enter the better chance you will win something. I try to enter my favourites daily, but sometimes time does not allow that. I figure one time is better than nothing
Get social media accounts: Many giveaways and contests, especially blog ones give extra entries for liking/following them and sharing the contest on facebook or twitter
Enter short-ending sweepstakes for better odds: If you happen to stumble upon a short ending promotion then enter it immediately. One-day and one-week promotions are a good beat for winning consistently. They receive less publicity, are harder to find, and less people will be entering.
Play Instant Win Games on a regular basis: These can be so frustrating. It's all in the timing, but they do have results. Most of the time you are also entering for the Grand Prize. Be persistent.
Sweepstakes offering large numbers of prizes offer the greatest potential of winning: The more prizes a promotion is offering the better chance you will have of winning at least one.
Sign up with your local radio station, or newspaper to receive email alerts on a regular basis. These contests cover a smaller geographic area, and the odds of winning something increases, because there is a smaller audience. You can win food, trips, gc's, DVD's. They have some amazing contests.
Say Thank You to the Sponsors: It only takes a moment, but I find it courteous to send off an email to thank the sponsors of a contest. Sometimes, I submit a photo. Especially, if it's a small blog hosting it, they like to post your comments/photo as a follow up on their sites.

Again, a huge thank you to koala for sharing these tips with SmartCanucks (you can read it here).  What prizes have you won in contests? 
This blog is part of our New to SmartCanucks series, click here to read more blog posts in the series