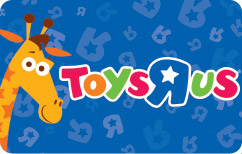 Get ready for insanity!!
As part of their 25th Birthday Celebration, Toys R Us is going to be giving out gift cards to the first 100 families in their stores on both October 31 and November 1.  The gift cards will range in value from $5 to $50.  I can just see the line up now!  If you feel like getting in on this promotion make sure to get there early as I'm pretty sure it's going to be a bit crazy.
If you want to read about this promotion click here.
Thanks to angel_cutie888 for this heads up.