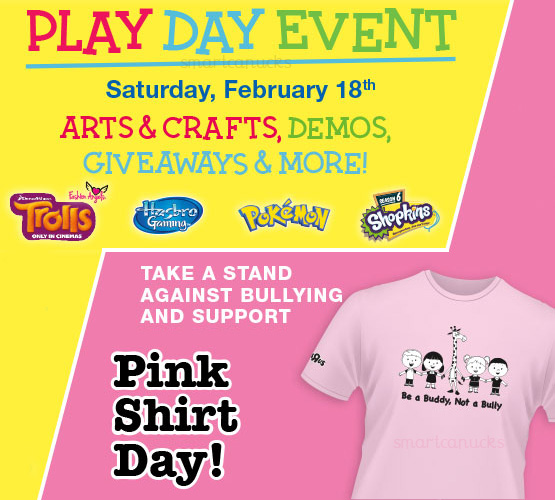 Toys R Us is holding a national Play Day Event on Saturday and this one is bigger than usual.  There are arts, crafts, demos plus giveaways at all stores on Saturday 18th February starting at 11am.
But since Pink Shirt Day is coming up soon, they will also be giving away 100 Be a Buddy, Not a Bully Pink Shirts to the first 100 children in line.  Wear these shirts to school on Wednesday for Pink Shirt Day to support anti-bullying campaigns.
Other giveaways include
Pokémon Sun & Moon Collector's Album & Cosmog Foil Card giveaway! Max. 200 per store.
Season 6 Shopkins 5-pack giveaway ! Max. 70 per store.
9 card NHL sheet of Upper Deck cards- featuring the hottest Canadian rookies and legendary Hockey Heroes!
Plus play Hasbro games without purchase and create and take home your own Trolls artwork from Fashion Angels! Activities include sketch sheets, chalk sketch sheets, and velvet posters. Color and embellish your artwork with glitter glues, chromastix, mini markers, chalk pastels and stickers!
View the upcoming Toys R Us flyer here or get more information on this event here.