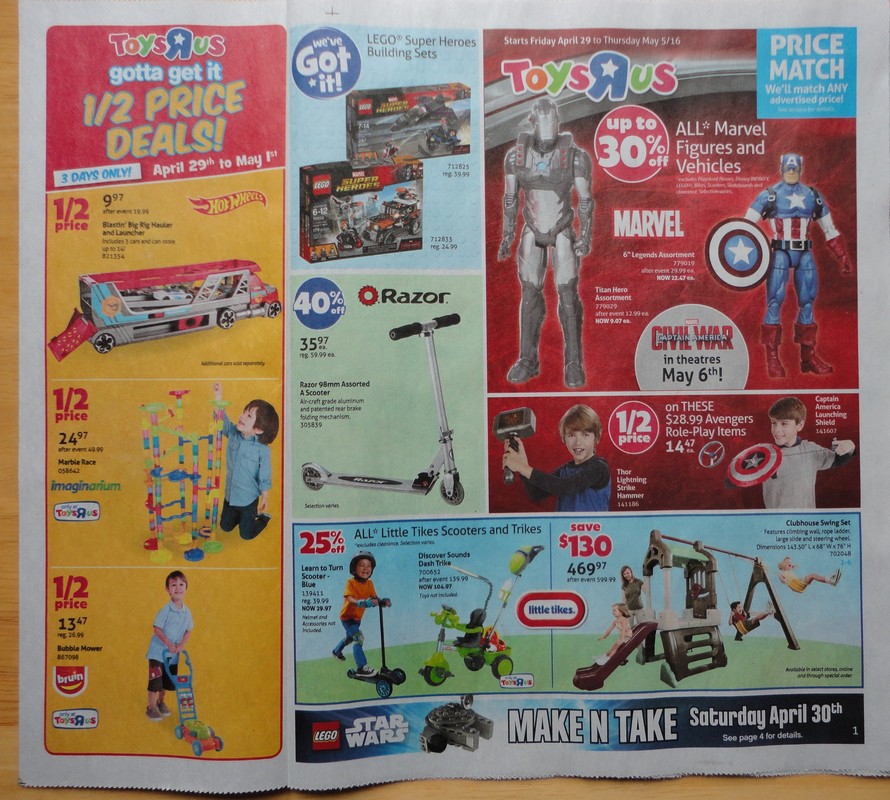 Cyn88canada has provided us with an early look at the Toys R Us Canada flyer, valid April the 29th to May the 1st, 2016. This flyer contains several 1/2 price deals, valid for these three days only. Here is a list of the items that are 50% off on these days:
Step 2 Duck Pond or Sand Castle $34.97
Bily 2-on-1 Bassinet (Owl) $64.97
Graco No Back Turbo Booster $23.97
KidiComfort Body Pillow $34.97
Hot Wheels Blastin Big Rig Hauler and Launcher $9.97
Imaginarium Marble Race $24.97 $13.97
Additionally, there are some other great offers the weekend, such as 25% off all Avigo bikes. All ball pits and tents are up to 40% off, Razor Retro Boards are 40% off, and Mega Blocks TMNT building sets are 25% off. When you spend $25 or more on any Lego building sets, you will receive a free Captain America Motorcycle.
Click here to view the Toys R Us Canada for all of the upcoming offers.