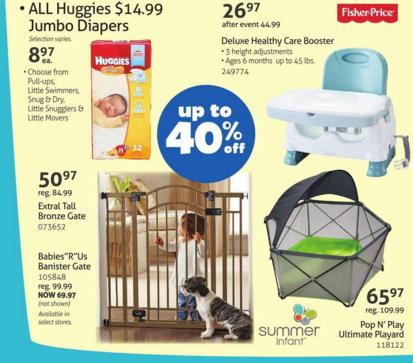 In the Toys R Us Canada flyer valid until December the 31st, 2015, Toys R Us Canada has Huggies jumbo packs of diapers on sale for $8.97. This is probably the lowest price you will ever see for jumbo packages, as a really good sale price on these bags is $10. In addition to this great price, there are coupons out there that can be used to get an even better deal.
Recently, there was a coupon for $3 off the purchase of any package of Huggies, jumbo pack or larger, available through the Walmart Canada coupon portal. If you have this coupon, it can be used to get a jumbo package of Huggies diapers for just $5.97! This coupon is still available through the Walmart portal, but it is a mail only coupon, so if you have not already ordered it, it is doubtful that you will receive it in time for this sale. If you do not have this particular coupon, there were also coupons available throughout the year for Huggies, such as the coupon for $2 off Pull-Ups available through the Walmart coupon portal, or peelies for $2 off Little Movers that were in stores not too long ago.
This offer is valid on Pull-Ups, Little Swimmers, Snug & Dry, Little Snugglers, or Little Movers. The jumbo packs may not provide the best value in terms of price per diaper, but sometimes you only need a few of a particular style of diaper on hand, or are transitioning between sizes, in which case this is the perfect time to grab a few jumbo packs of whatever you may need.
Click here to view this deal in the Toys R Us Canada flyer.