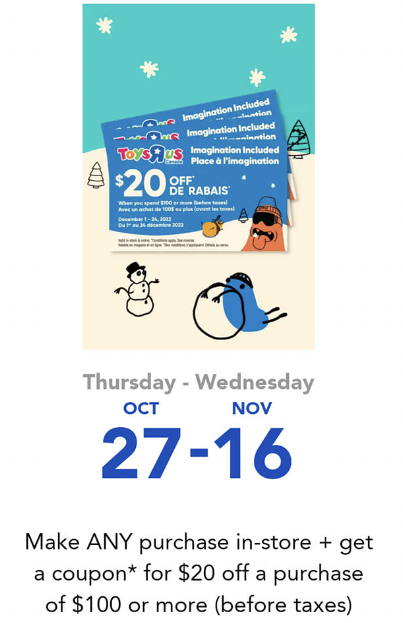 Until Wednesday, November the 16th, make ANY purchase in-store at Toys R Us Canada and get a coupon for $20 off a purchase of $100 or more. The coupon will be redeemable from December the 1st to the 24th and is available while supplies last.
If you have a larger purchase that you need to make, you could go pick up something for a couple of dollars and get this coupon to use on your purchase in December. There may be exclusions printed on the actual coupon, so make sure it applies to any product you were planning on purchasing.
If you are interested in shopping Toys R Us online, you will not receive the coupon, however, they have recently dropped the minimum for free shipping to $49 from $99. You can also get free same day shipping on purchases over $50 with the code DOORDASH if it applies in your area.
Don't forget to check out all of the in-store activities that are coming up for the months of November and December as well. From November the 4th to December the 9th, kids can drop off their letters to Santa at in-store Canada Post mailboxes. If you include a return address, Santa will write back!
Click here for more upcoming store events and to shop Toys R Us Canada.