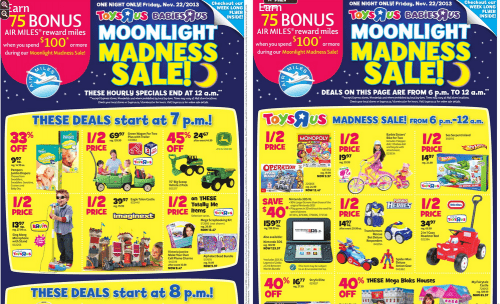 Shopping for children at Christmas can be expensive, but Toys R Us Canada is giving us all a HUGE break with their Moonlight Madness sale with some of their best toys up to 50% off!
The Toys R Us Canada Moonlight Madness sale gets better in increments as the night goes on:
7 pm deals include: Pampers Jumbo Diapers at 33% off, Sing Along Microphone at 50% off, Children's Wagon for two + trailer at 50% off, and more
8 pm deals include: $60 off Envy Travel System, 40% off 23″ Skateboard, 50% off 220 piece Lego building tub, and more
10 pm deals include: Extra tall decor gate at 50% off, 30% off 16gb 5th gen ipod, all $16.99 barbies are buy one get one free, and more
Another great bonus that comes from shopping at Toys R Us Canada is the Air Miles Rewards! For every $100 you spend, 75 Air Miles points are yours to accumulate into next year's family vacation!
This deal at Toys R Us Canada is only on for Friday, November 22nd, and runs until 12 am! Don't miss a chance to get these great gifts at huge discount prices!
Click here for the Toys R Us flyer, to see all the great items on sale!