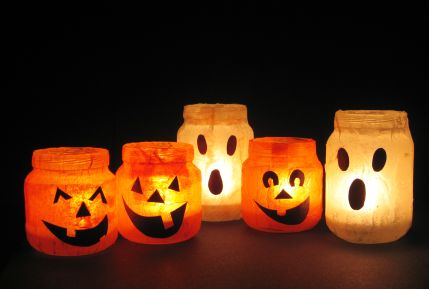 Have your plans for Halloween night yet?  Maybe your neighbourhood has the spirit for All- Hallows-Even and you can enjoy a swift trip around the block with some excited children gathering a pillowcase of sweets.
My neighbourhood?  Uh, no.  Most people close the doors, turn out the lights or leave town.  It's not that I live in a less-than-reputable town but rather that the majority of those nearby do not condone certain ascpects of Halloween and therefore utterly ignore it.
The trick to getting our treats has become the annual Mall'o'Ween at the nearby shopping centre.  The stores have their employees dress for the occasion, they decorate the mall and hand out candy.  A bonus is that every year the mall has a science demonstration for kids full of excitement and (kid sized) explosions.  Some mall's have Haunted Houses and other special plans.  A fun and safe way to get your candy.  Check your nearby mall's website for events.
Last year my wife had the brilliant idea to throw a Halloween party.  It's everything you expected it would be.  Apple bobbing?  Yes.  Brains in a bowl?  Yes.  Costume contest?  Of course (although at our party the kids were young enough to ALL deserve a prize).  This was surprising economical and our kids were excited to be host to their group of friends.
Check out some cheap and excellent party ideas by clicking here:
Other popular ideas that are popular that we have done before are a Haunted Corn Maize, Haunted Walks, and Haunted Tours.

Have other ideas?  Great locations for Halloween adventures?  Post them below to share!