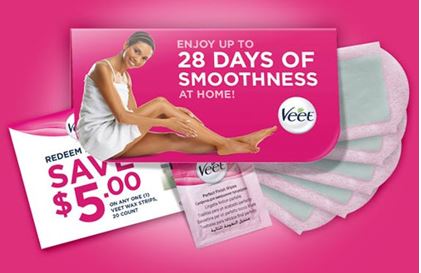 You may recall that a while back there was an offer from Veet for a coupon for a free box of their wax strips. This was a sample that you could only obtain if you happened to see the offer while scrolling through your Facebook or Instagram news feeds.
There is a new offer that is currently available, but this time it is an actual sample kit that includes wax strips, perfect finishing wipes, and a coupon for $5 off the purchase of Veet Easy-Gel wax strips. If you got the free coupon offer when it was available, you probably stand a good chance of seeing this current offer, so keep an eye out.
For those of you who would like to be able to claim this offer, be sure to like the Veet Canada Facebook page, google Veet products, etc. After doing so, be sure to refresh your news feed  and watch for the offer. The image above is what you will be looking for. Once again, there is no direct link for this offer.