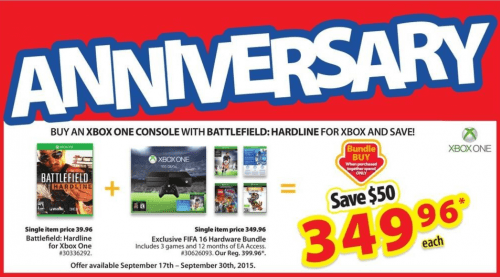 Some people may have been underwhelmed with this year's Walmart Canada Anniversary deals, but there are a few hot deals to be found in the upcoming flyer. If you're a gamer, you can pick up a great deal on a new console with Battlefield Hardline + FIFA 16 Xbox One Bundle, 3 Game and EA Access for only $349! The flyer adversities the deal as being only $50 off the regular price, but if you break down the items included in this offer, you'll see that it's actually a great deal even at full price!
This bundle includes:
Battlefield Hardline for Xbox One ($69.96 value reg- $39.96 during sale)
Xbox One FIFA 16 Bundle with EA Access ($349.96 reg)
3 games including Rare Replay and Lego Movie the Game
It's not clear whether the extra games included with the FIFA bundle are physical or digital, but are each worth about $20 each. FIFA 16 is most likely a digital code which is selling for $79.99 for a pre-order on the Xbox Store now. EA Access, which is also included with your bundle normally goes for $29.99 for a one year, and your subscription gets you access to over a dozen games in EA's vault. This is a hot deal, so if you've been thinking about getting an Xbox One System, this is a great chance to do so and save! You'll be able to get a fairly large library of games just with this initial purchase of the system!
This offer is available from September 17 to September 30, 2015. You may download FIFA 16 right away when you purchase this deal, but the game does not become playable until September 22, 2015.
Click here to view more deals in Walmart Canada's upcoming Anniversary Flyer.