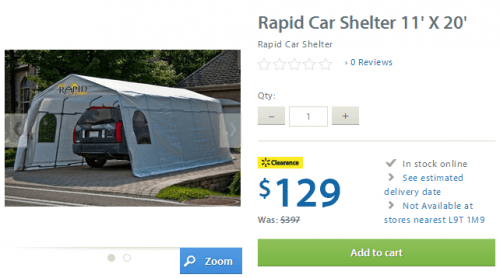 Walmart Canada has an excellent clearance deal on the Rapid Car Shelter! This shelter is 11 x 20 feet and only $129. This is a super hot price compared to the regular retail price of $397. This offer is available online only.
Walmart.ca Canada Online states that this item takes only 5 minutes to assemble, those estimated assembly times are always false! It took us a bit longer than 5 minutes to set up ours. It also states that it is engineered to withstand Canadian winters, but I wouldn't trust it with the last winter we had! This is a great shelter to use for garage sales, family out door get togethers, car shelter and more. We even had a smaller type set up in the back yard to shade the kiddy pool.
You will also enjoy FREE Standard Shipping on all orders from Walmart.ca Canada Online with absolutely no minimum purchase.
Click here to check out this Walmart Canada Clearance Deal.