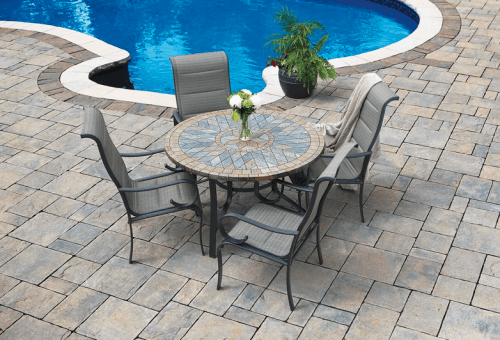 If you're looking to create your perfect backyard oasis, head over to Walmart Canada now and check out these great deals on patio sets! Walmart is offering big savings on sets like the Hometrends 5-Piece Dining Set With Padded Sling Chairs. Originally sold for $534, you can find it on clearance now for $275! This table set is perfect for relaxing in the sun, or by the pool. It includes a stylish tabletop made of Glassfibre Reinforced Concrete, as well as 4 oversized padded sling armchairs, which are perfect for relaxing. The set is rust proof as well as UV, and colour fade resistant so that you can enjoy it for many summers to come.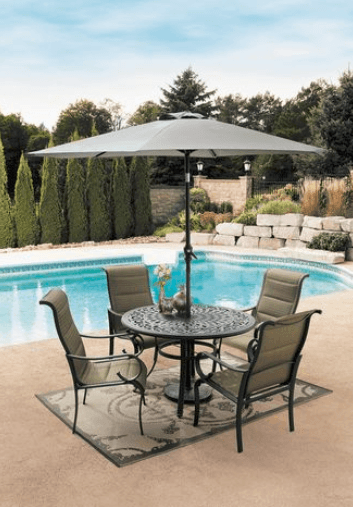 Another great set offered at Walmart is the Hometrends Pacific 5-Piece Round Table Dining Set. It originally sold for $350, but you can find it on clearance now for $275. This set is inspired by classic cast iron designs, and marries tradition with comfort. The set includes a round aluminum-cast tabletop along with 4 oversized padded sling armchairs. The sling chairs are made with a weather-proof PVC coated polyester, so that you won't have to worry about leaving them out in the rain, and the table can accommodate most regular patio umbrellas if you choose to buy one separately for this set.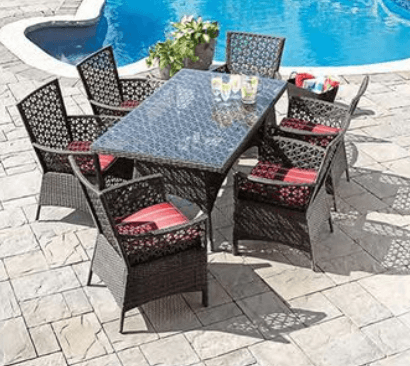 If you need more seating room, this Hometrends 7-Piece Wicker Dining Set from Walmart is a great choice. Originally sold for $798, Walmart now has it on clearance for $400. The set has a sturdy steel frame combined with a resin, which makes the entire set look like it's made of wicker. The set includes a stylish glass-topped table, along with 6 chairs with cushions. The entire set, minus the cushions are weather proof and unfortunately there's no hole in the table to place an umbrella.
These deals are on for a limited time only, while supplies last. Walmart Canada offers free shipping on most orders over $49.
Click here to shop more clearance deals online at Walmart Canada.
Also