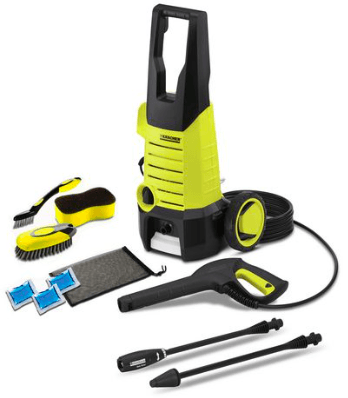 Walmart Canada is continuing with their clearance sale extravaganza, and within this sale I spotted this hot sale on a Karcher K2.360 CCK 1600PSI Electric Pressure Washer, which has recently been marked down to being just $97. Normally, this pressure washer would be sold for $100 more than this, as the retail value is $197.
Also, since the electric pressure washer is above $50, Walmart will be able to offer free-shipping on your order as they now have a $50 threshold for free-shipping.
The K2.360 CCK, though it is rather compact and lightweight, offers the power of machines much larger than it. For instance, it provides 30 times as much pressure as any ordinary garden hose, but it only weighs 17.1 pounds. The electric pressure washer will also come with a Dirt Blaster Spray Wand, a car care kit (brush, rim brush, sponge and three (3) soap packs), and a Vario Power Spray wand.
There is only one review for the Karcher K2.360 CCK on Walmart, but the review provided gave the pressure washer a 5 star rating and claims that they have used it on everything from fences, to decks and patios.
Click here to buy the Karcher K2.360 CCK 1600PSI Electric Pressure Washer.