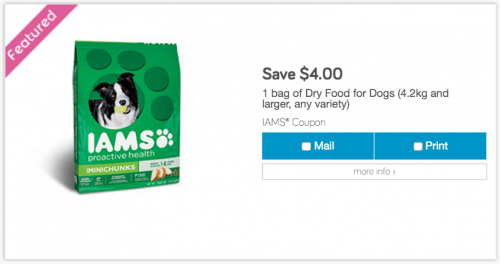 There are 11 different coupons available on Walmart Canada's coupon portal which include a wide variety of household items such as dog food, make up, cleaning supplies, and snacks which can save you up to $22. To get these Walmart coupons, you may have to create a new/different account because some of these coupons (not all) are separate from the coupons found on Save.ca. Here are the two newest coupons to be added to the portal:
Save $4 on IAMS dry dog food
Save $3 on Sunlight products including Dish Pacs, laundry detergent and Snuggle.
The other 9 coupons are:
Save $0.75 on any PaperMate Replay Premium and Inkjoy Pens
Save $1 on any Scrubbing Bubbles Bathroom Cleaner Trigger or Aerosol
Save $1 on any Drano product
Save $1 any Stayfree pads
Save $2 on any IOGO pouches
Save $0.75 on any variety of PILLER's products
Save $3 on Revlon mascara
Save $0.50 on one Pears bar
Save $5 on Herbamax for Men
Save $1 on Club House mixes