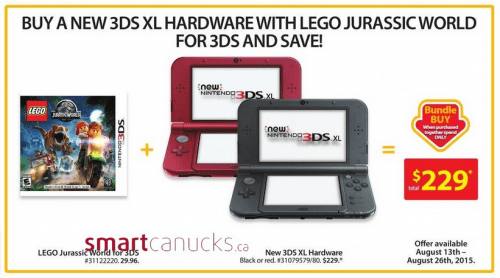 Walmart Canada has some great deals for gamers in this week's flyer! Head over to Walmart and you can pick up a New Nintendo 3DS XL plus Lego Jurassic World for $229! The newly improved New Nintendo 3DS XL system combines next-generation portable gaming with super-stable 3D technology and added control features. The system normally sells for $229 alone, but this week your purchase will come included with a Lego Jurassic World game. LEGO Jurassic World is the first video game where players will be able to relive and experience all four Jurassic films at once. It normally sells for $29.96 at Walmart, but will be free when you purchase a New 3DS XL.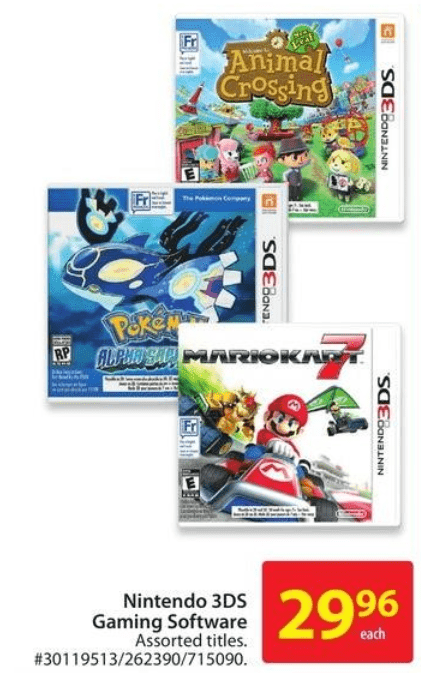 You can also expand your gaming library with deals on assorted Nintendo 3DS at Walmart for $29.96 each. You can save on your purchase of Animal Crossing New Leaf, Pokemon Alpha Sapphire, or Mario Kart 7 all for the Nintendo 3DS. These games normally sell for about $35 at other stores like Best Buy and EB Games, so this isn't a bad deal at Walmart for popular game titles.
These deals end August 19, 2015.
Click here to view more deals in this week's Walmart Flyer.
Click here to get New Nintendo 3DS XL plus Lego Jurassic World Black
Click here to get New Nintendo 3DS XL plus Lego Jurassic World Red