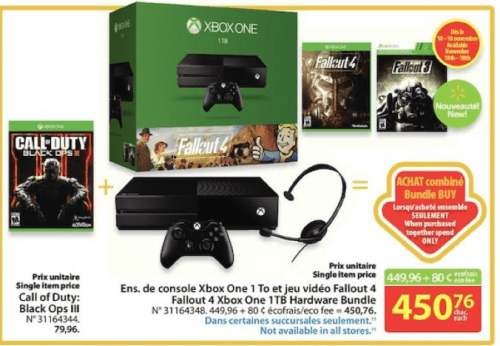 Walmart Canada has a pretty good deal coming up in their next flyer! Head over to Walmart and you can purchase a Fallout 4 Bundle complete with Fallout 4, Fallout 3, and Call of Duty Black Ops 3 for $450! The Quebec flyer lists the price as $449.96 + a $0.80 eco fee, so this price may vary slightly in other provinces. This is a pretty good deal for a new system as well as 3 free games to get your library started! Fallout 4 isn't officially released until November 10, 2015 so you cannot pick up this deal until that date.
1 TB Xbox One console
Xbox One wireless controller with 3.5mm headset jack
Fallout 4
Fallout 3 full game download
Call of Duty Black Ops 3
14-day Xbox Live Gold trial
While this is a pretty good deal, it actually matches the current offer for the same bundles and game from the Microsoft Store, as you can pick up the same bundle for $449. If you don't wish to play Black Ops 3, the Microsoft Store offer might be slightly better, as you'll have a choice of what you'd like your additional free game to be.
This deal is available beginning November 10 to November 18, 2015. Flyer deals are available November 5 to November 11, 2015. This deal may not be available at all stores.
Click here to view more deals in the Walmart Canada flyer.
Click here to get Walmart Canada online offers.