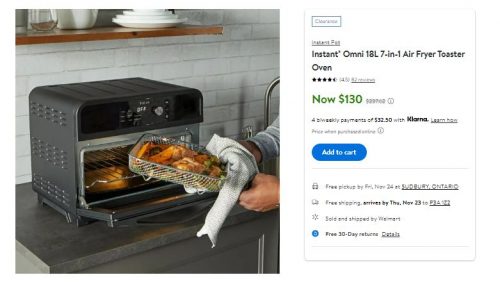 Walmart Canada currently has the Instant Omni 18L 7-in-1 Air Fryer Toaster Oven on clearance for $130, a savings of $107.62 off the regular price of $237.62. This item is sold and shipped by Walmart, and ships for free. You have up to 30 days after you receive your order to return the item if you are not satisfied. Here are some of the features of the Instant Omni 18L 7-in-1 Air Fryer Toaster Oven:
Seven Cooking Functions: air fry, broil, bake, roast, toast, warm, convection
EvenCrisp technology circulates hot air from the top down, over the food, to deliver all the crunch and tenderness of deep-frying with 95% less oil vs. deep frying
Three Toasting Levels: perfect bread, bagels and more'
Five heating elements that deliver heat where you need it the most
Little to no preheating time necessary
Temperature adjusts from  170 to 450 °F (76 to 232 °C) for any recipe
Large Capacity fits a 12" pizza or 6 slices of bread
Includes enamel baking tray, stainless-steel oven rack, air frying basket
free Instant Brands Connect app (iOS and Android) with over 1,500 recipes
Click here to shop this offer at Walmart Canada.