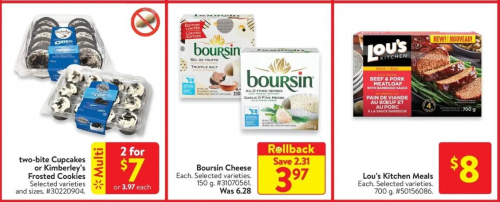 This week Walmart Canada has Boursin Cheese on Rollback for $3.97, a savings of $2.31 from the regular price. If you visit GoCoupons.ca through the link below, you will find that they have a $2 cash back offer this week, which allows you to get the Boursin Cheese for just $1.97.
The GoCoupons.ca offer can be redeemed two times every 7 days, so you are able to pick up a couple of the Boursin this week. If you've never used GoCoupons.ca first you can register and make an account. Once you have made your purchase you can then upload your receipt. You must reach $20 in your account in order to be able to cash out.
One other great deal at Walmart this week are the raspberries priced at $1.67 for 170g. If you have the Eclipsa app you will see an offer for raspberries this week. Upload the receipt after purchasing the raspberries and get 25 cents back for your purchase, making them just $1.42.
Click here to view these offers in the Walmart Ontario flyer. 
Click here to visit GoCoupons.ca.