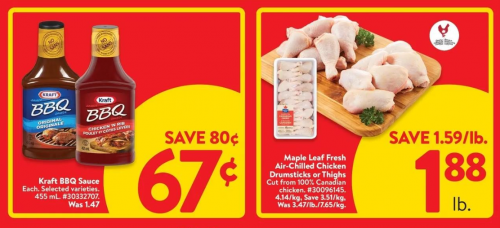 Walmart Canada has an amazing deal on Kraft BBQ Sauce this week and there is no coupon required for this deal! Beginning today and until June the 22nd, the Kraft BBQ Sauce is just 67 cents each, which is more than 50% off. You can also pick up Maple Leaf Fresh Air Chilled Chicken Drumsticks or Thighs for $1.88 a pound while you are there, and you are all set to barbeque.
If you have the Eclipsa app you can get one Kraft BBQ Sauce for just 42 cents by claiming 25 cents for any BBQ Sauce this week! There is a limit of only one for all of the offers on Eclipsa. Each are 25 cents, and you need $20 to cash out. If you'd like to get another 25 cents back this week you can also purchase raspberries at Walmart for $1.67. After claiming 25 cents back on Eclipsa they will be just $1.42.
Click here to view these offers in the Walmart Canada flyer for this week.