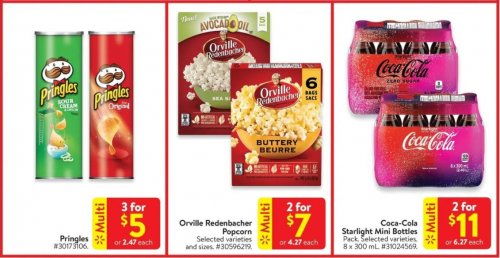 At Walmart Canada this week, Orville Redenbacher microwave popcorn is advertised for a multi-buy price of 2/$7. If you are purchasing the new Avocado Oil variety, there is a printable coupon that is still available to $2 off the purchase of this popcorn. If you have two coupons and purchase a couple of boxes you will pay just $1.50 for each box. You can find the printable coupon through the link below.
If you are unable to print the coupon, there is also a recent $2 tear pad coupon for this product. You may still be able to find it in stores.
If you are heading to Walmart this weekend there is also a great deal on Maple Leaf Sausages that does not require a coupon. The 1.2kg pack of Maple Leaf fresh dinner sausages is on sale for $6.97 this week, a savings of $5 off the regular price.
Click here to view these offers in the Walmart Canada flyer.
Click here to print your coupon for $2 off the purchase of Orville Redenbacher Avocado Oil popcorn.