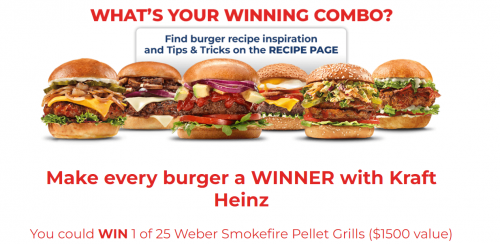 Walmart Canada and Kraft are giving you the chance to win Weber Grills and Walmart gift cards with this new promotion! To participate, you can purchase three participating Kraft products at Walmart Canada and upload your receipt through the contest link at the bottom of the post.
There is a complete list of qualifying upcs for the promotion, so be sure to check that the products you are purchasing qualify. All three products must appear on the same receipt, and the last day to submit your receipt is August the 3rd. By entering you have the chance to win one of 25 Weber Smokefire Pellet Grills valued at $1500, and one of 125 $100 Walmart gift cards.
There is also a no purchase entry option if you would prefer not to purchase any these products but would still like to enter.
Click here for full contest details and to submit your receipts.