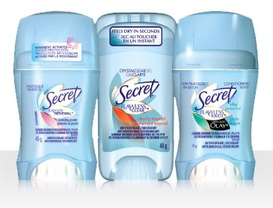 Some of you have already taken advantage of this super deal, but in case you haven't here is the rundown. Secret Flawless antiperspirant is on sale for $1.66 at Walmart this week. With the P&G coupons that are $1.50 off you get them for 16 cents! Which is an awesome deal!
I know some of us haven't been receiving the P&G coupons in the mail, myself included. If you don't get the P&G coupons in time, there is a save.ca coupon on right now where you get $2 off if you buy 2 Secret Flawless, which works out to 66 cents each. Still pretty good.
Thanks to TNatywary and mamasaidshop for sharing this deal with us!