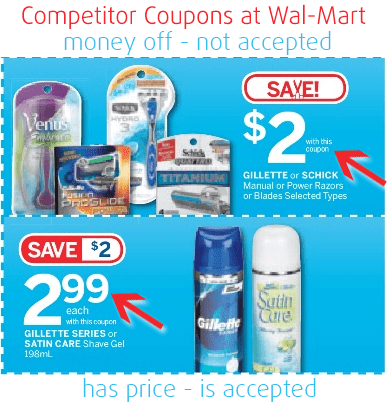 There seems to be some confusion over which competitor coupons (Loblaws Coupon Zone or Rexall PharmaPlus etc coupons) Walmart stores accept and do not.  Walmart doesn't actually accept competitor coupons, they use them for price-matching purposes because they have no way to get reimbursed for the coupon.  While some Walmart stores do accept any competitor coupons including cents off coupons, this is not the case for all stores nor their coupon guidelines which state:
Competitors coupons qualify if:
issued by a Canadian competitor
for a specific item for a specified price i.e. $2.99
buy one, get one free (BOGO) coupons for items with a specified price
they have a valid expiration date
and are acceptable in black, white or colour
So, as you can see from the image above, they would accept the shave gel coupon which states you save $2 and pay $2.99 (specific price), but would not accept the razor coupon as it is a cents off coupon and does not specify a price.
Are you lucky enough to have a Walmart store that accepts cents off coupons?