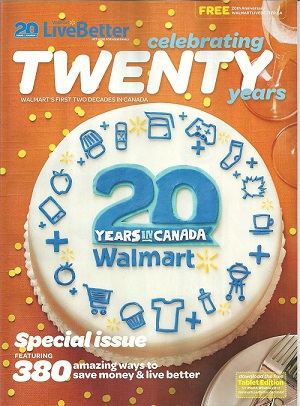 Walmart's Live Better magazine for July is out and it is a special 20th Anniversary edition.  It has four coupons including one valid on any Kellogg's cereal.
$1.00 on Kellogg's Cereal WUB any White Milk Product, 71199229, September 30, 2014

$2.00 on any Webber Naturals Supplements, 43404214, July 31, 2015

$2.00 off Revlon Colorstay Gel Envy Long Wear Nail Enamel, 28723211, October 31, 2014

$1.50 on Palmer's Cocoa Butter Formula Skin Therapy Oil Face, 115-105, December, 31, 2014
Click here to see scans of these coupons for more information.
Also, click here to get all Walmart Canada online offers.