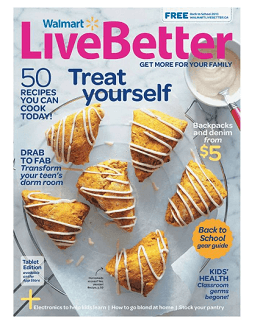 The new June 2014 of the Walmart Live Better magazine has been found in store by forum member Meeeks85. The above picture is NOT what the cover looks like this month though, just to be clear. But keep your eyes peeled for this new edition which contains coupons. There are not as many coupons in this one as there have been i n previous editions, but you can expect to find the following:
$5.00 on Enfamil A+, Enfamil A+ 2 and Enfamil A+ Gentlease (Powder 550g – 992g), Ready to feed case (18 x 237) or concentrate case (12 x 385) UPC 30220515 Expires Dec 31, 2014
$1.00 off when you buy any 2 Listerine (1L or more), Polysporin (30g), Reactine (10 ct or more) and Tylenol extra strength (100ct or more) UPC 04393261 Expires July 7, 2014
$0.80 when you buy any one Herbal Essences UPC 0008151-200233 Expires June 30, 2014
$1.00 when you buy Del Monte Creamy bars, LifeSavers or Oreo Birthday Cake UPC 10039218 Valid ONLY June 14, 2014 – Sept 21, 2014
You can typically find this magazine somewhere near the registers at the front of the store. Have you spotted it yet at your Walmart location?
Click here to visit Walmart.ca.