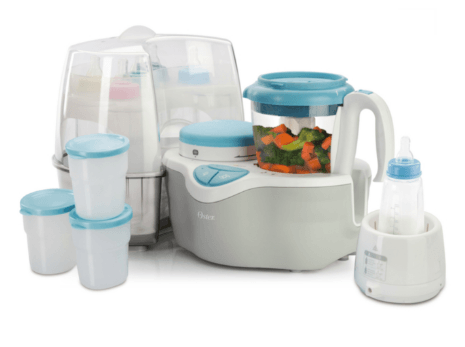 Walmart have the Oster Baby Nutrition Centre on rollback.  You can pick one up in-store or online for $79.88 (save $50).  You may have to check availability at several stores, my local one is out of stock but looking at ones within 15km there was plenty of stock at various stores.
The complete and convenient centre with everything you need to prepare bottles and baby food
Fully-equipped to steam and process up to 600g of food at once to capture full nutritional value for your baby
Also functions as a sterilizer and bottle warmer
Is dishwasher safe and includes 3 storage containers, nutrient cup, bottle warmer, sterilizer, and 3 steam trays
Designed with 0-24 month-olds in mind
You can eliminate countertop and cupboard clutter and prepare nutritional baby food with ease with this great deal.
Click here to buy from Walmart or Amazon have already pricematched this deal if you have some Amazon.ca gift cards burning a hole in your pocket.