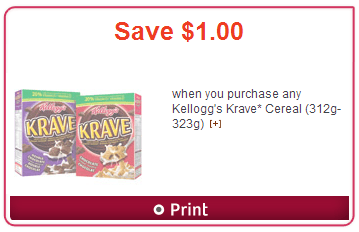 WebSaver.ca Canada has a new printable coupon available through their hidden Kellogg's Coupon Portal!
Save $1.00 when you purchase any Kellogg's Krave Cereal 312g – 323g
I am not particularly fond of the Kellogg's Krave Cereal but if you do like to put this in your grocery cart, $1.00 savings will be excellent.
Your best bet would be to watch for this cereal to go on sale. Right now Kellogg's Krave Chocolate and Double Chocolate is on Rollback Sale at Walmart Canada for only $2.97! With this coupon you will pay only $1.97 which makes it a steal of a deal.
Click here to see if your local Walmart Canada has this Krave Cereal on sale for $2.97.
Click here to get your Kellogg's Krave WebSaver.ca coupon to save $1 off your next Krave Cereal Purchase.