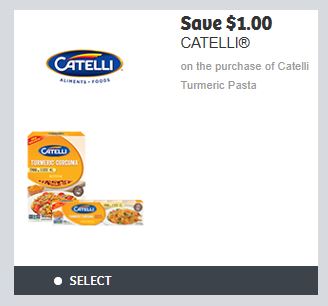 Catelli Canada has a new pasta product available, and WebSaver Canada has a newly added coupon for this product that you can print! Head over to the WebSaver Canada coupon portal by clicking the link at the bottom of the post, and you will find this latest coupon for $1 off the purchase of Catelli Turmeric pasta.
What is turmeric you ask? Turmeric is a spice that is part of the ginger family and has been used in India for thousands of years, not only as a spice, but as a medicinal herb. There are many supposed health benefits to turmeric, including links to improved brain function, anti-inflammatory effects, and it is also known as a powerful antioxidant.
To print your coupon through WebSaver you will first have to sign in to your account. From there you should be able to print two copies of the coupon.
Click here to print your coupon for $1 off the purchase of  Catelli Turmeric pasta.