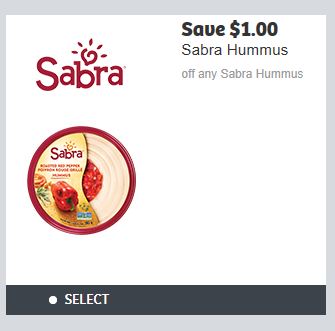 The WebSaver Canada coupon portal has a new addition this morning. Save $1 on the purchase of Sabra Hummus with this new coupon that you can print through the link below.
If you are thinking of purchasing some this week, Metro Ontario has the Sabra Hummus on sale for $3.99, Loblaws has it for $4, and Fortinos has it for $4.49. You will pay as little as $2.99 with the coupon. If you would prefer to wait for a good deal you can often find the Sabra on sale for $2.99 or less, so it shouldn't be a long wait.
The expiry date on the coupon is August the 9th, 2018 if printed today. Most coupons can be printed twice through the WebSaver portal so go back and give it another try after you print the first one if you would like a second coupon.
Click here to get your coupon for Sabra Hummus through the WebSaver Canada coupon portal.