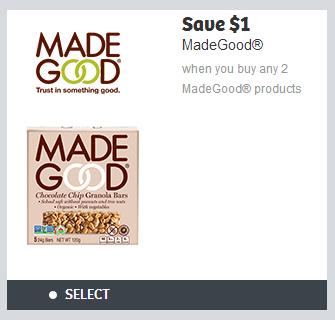 If you are on the look out for some good deals on back to school snacks that are organic, gluten free, or non-GMO verified, then here is a coupon that may be of interest to you. WebSaver Canada has just added this new coupon for MadeGood products to their printable coupon portal, and you can save $1 on your next purchase of any two MadeGood products.
MadeGood products are widely available, and sold at retailers like Walmart and Shoppers Drug Mart, in case you are concerned about product availability before printing the coupon. WebSaver coupons can be printed either once or twice per account. It seems to depend on the coupon so if you want a second coupon give it a try after printing the first. Unlike SmartSource, WebSaver print limits are per account, not per computer. If there are others in your household who have WebSaver accounts they may print them as well.
Click here to get your coupon for $1 off the purchase of two MadeGood products through WebSaver.