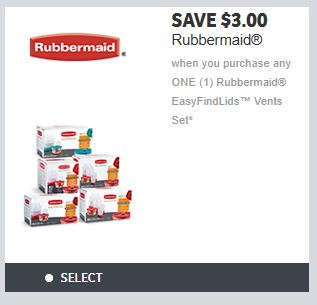 The WebSaver Canada coupon portal has recently added a new printable coupon. Save $3 on the purchase of any one Rubbermaid EasyFindLids Vents set. The coupon can by found by clicking the link below. You require a WebSaver account in order to print the coupon, and any other coupons you see there, so take a second to create an account if you are new to the portal.
To be honest I'm not sure what exact sets this coupon is for as the picture is quite small and I can't find any sets online called EasyFindLids Vents sets. I can only find EasyFindLids sets that say the lids vent if you position them a certain way. I'm not sure if this is a new type of set that the coupon is for, so if you do find these sets in store feel free to comment.
Click here to print your coupon for $3 off Rubbermaid products through the WebSaver.ca coupon portal.