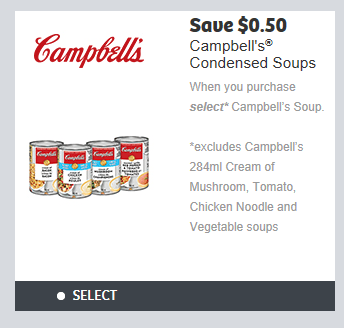 Campbell's condensed soups are a pantry staple and a vital ingredient in many recipes, and currently, WebSaver Canada has a coupon that you can print to provide some savings on your next purchase. Save 50 cents on the purchase of select Campbell's condensed soups with this new printable coupon.
You may recall a similar coupon that was available in the past, that had no exclusions on which type of condensed soup you could use the coupon on, which meant free soup when the more common flavours were on sale for 50 cents or less. This time around there are some exclusion. This version of the coupon is not valid on the 284ml Cream of Mushroom, Tomato, Chicken Noodle, or Vegetable soups.
The Real Canadian Superstore Ontario flyer for this week has Campbell's condensed soups on sale for $1.28, and it looks like this includes all flavour. Use this printable coupon and pay 78 cents each.
Click here to get your coupon for 50 cents off the purchase of select Campbell's soups.