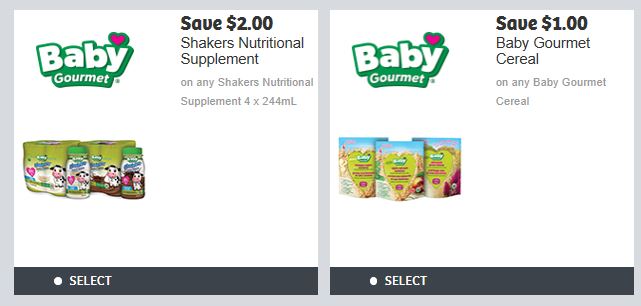 Those of you with little ones may appreciate the two new coupons that have recently been added to the WebSaver Canada printable coupon portal. Save $2 on the purchase of Baby Gourmet Shakers Nutritional Supplements, and save $1 on the purchase of any Baby Gourmet cereal.
After a quick look at my flyer apps I don't see these on sale in the upcoming week in my part of Ontario, but you may be able to find a sale price wherever you may be. The regular price of the cereal is about $4, depending where you are shopping of course. As for the Baby Gourmet Shakers, the 4x244ml pack size looks to be about $11 at regular price.
WebSaver coupons can usually be printed twice each per account. If you don't have a printer don't forget that you can have the coupons mailed to your home for a small fee.
Click here to get these coupons through the WebSaver Canada printable coupon portal.