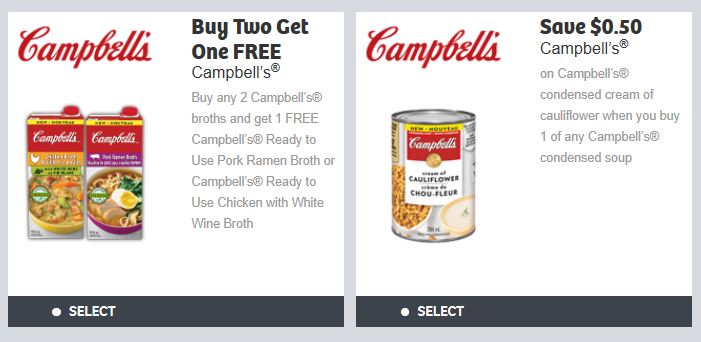 SmartCanucks is Canada's largest and most popular site for Canadian coupons! Here you will find thousands of coupons sorted by store, brand or type.
WebSaver Canada has added a couple of new Campbell's coupons to their printable coupon portal. Click the link below and you will find the following two new coupons:
Buy any two Campbell's Broths and get one free Campbell's Ready To Use Pork Ramen Broth or Campbell's Ready to Use Chicken with White Wine Broth
Save 50 cents on Campbell's condensed cream of cauliflower soup when you buy one of any Campbell's condensed soup
Food Basics Ontario has the broth on sale for $1.88 until tomorrow, so with the coupon, assuming they carry these two new varieties, you could get three containers of broth for a total of $3.76, or $1.25 each.
You must be signed in to print these coupons through WebSaver, so you will need to make an account first if you don't already have them. You can typically print two of each available coupon, however, you are able to have multiple accounts per household.
Click here to get your coupons from WebSaver.ca.