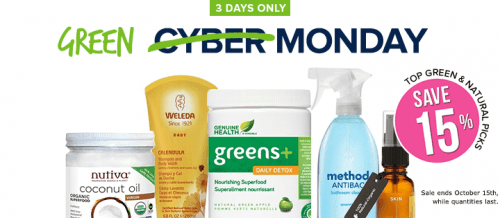 Well.ca Canada online is having a Cyber Monday Sale! For the next three days you can save on Well.ca Canada online's top Green and Natural Product picks!
The Well.ca Canada Online GREEN Cyber Monday Sale will allow you to save 15% off green and natural products. This offer will apply to select products only, while quantities last.
Some of the items on sale include:
Schinoussa FIT Yacon Syrup – was $20.49 – now $17.42
NOW Better Stevia Organic Extract Powder  – was $89.99 – now $76.49
Bob's Red Mill Gluten Free All Purpose Baking Flour – was $10.79 – now $9.17
Hawkins Honey White Liquid Honey – was $14.99 – now $12.74
and lots, lots more!
This offer expires October 15th, 2014. If you spend $25 or more at Well.ca Canada Online then you will also enjoy FREE standard shipping. Spend Cyber Monday getting healthy and enjoying these products from Well.ca Canada Online!
Click here to check out the Well.ca Canada Cyber Monday offers!