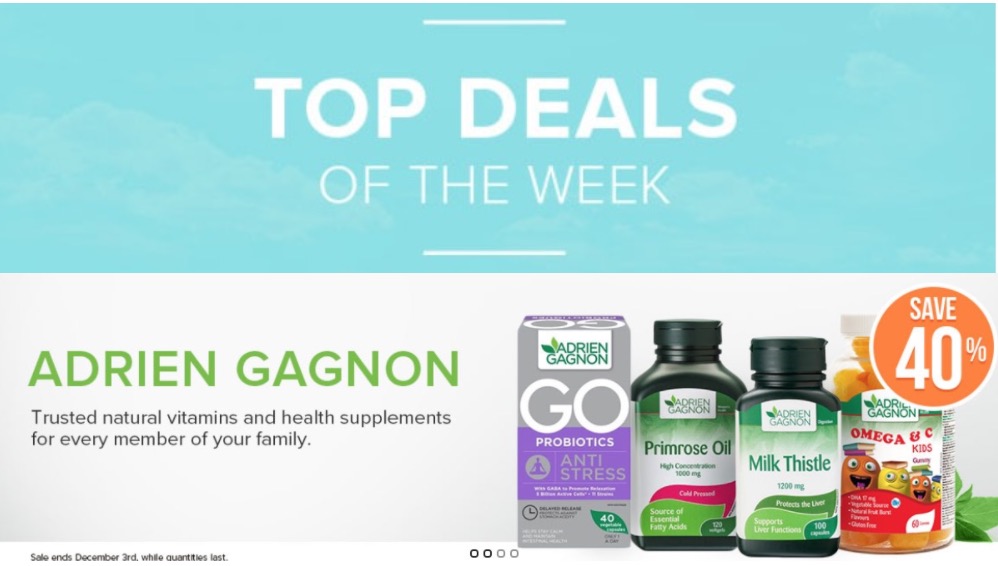 Well.ca Canada have released their new top deals of this week! The Well.ca deals of the week are valid until Sunday December 3, 2017 and include:
Save up to 20% on Hair Care
Purchase any S'well Water Bottle & Receive a Free S'well Chalk Pen in White – Coupon Code: SWELLPEN
Save up to 25% on select Gifts for Her
Save up to 30% on select Baby's First Christmas
Save up to 30% on select Kitchen Items
Save up to 30% on Green & Natural Cleaning
Save 30% on Webber Naturals
Save up to 30% on ATTITUDE
Save 40% on Nature's Bounty
Save 40% on Boo Bamboo
Save 20% on Bogs
Save 15% on Facial Cleansers *Exclusions Apply
Save 20% on Dr. Bronner's
Save 40% on Adrien Gagnon
Save up to 25% on Home Decor
Save up to 25% on Vega
Save 15% on Diono
Save 15% on Maxi-Cosi
Save $220 on Garnet & Cobalt Baby Jogger City Select Black Frame & Second Seat Kits
Save 20% on select Oribel
Save 25% on Elvie Kegel Exercise Tracker
Save up to 25% on Ellia
Save 20% on Baby Tula
Save up to 20% on Calikids
Save 15% on fridababy
Save 15% on Jack & Jill Kids
Save 20% on Kidsme
Save 15% on Funky Fluff
Take Care of Yourself and Save up to 20% *Exclusions Apply
We LOVE Lavender! Save 10% on our Favourites
Save up to 20% on The Men's Grooming Gift Guide
Save up to 25% on select Hostess Gifts
Save 20% on Hugo & Debra Naturals
Save up to 15% on Electric Toothbrushes
Save 20% on Alaffia
Save 20% on Veet
Save 20% on Essential Oxygen
Save 10% on select Protein Powders
Save up to 20% on select Specialty Diet
Save up to 20% on Healthy Foods That Fuel
Save 20% on Stash
Save 20% on PUR
Save 15% on Theo
Save 15% on Late July
Save 15% on Maison Orphee
Save 20% on Boulder Canyon Natural Foods
Save 10% on Pure Leaf
Save 15% on select Natural Laundry Detergents
Save up to 25% on Laundry Accessories
Save 15% on Crumps' Naturals
Save 30% on Resolve
Save 15% on Holistic Choice
Save up to 60% on Clearance
Enjoy FREE shipping on all online orders of $35 or more.