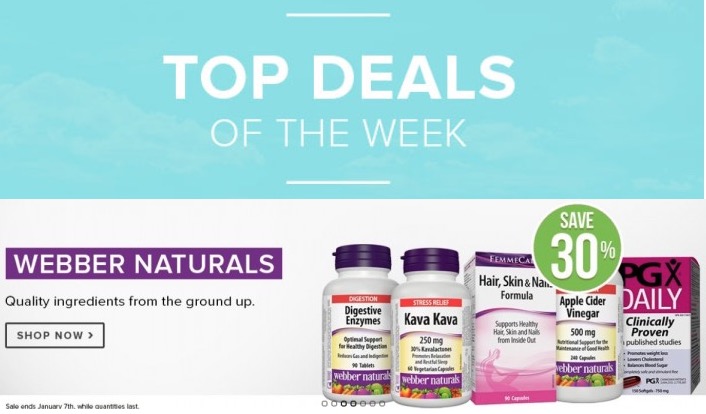 Well.ca Canada have released their new top deals of this week! The Well.ca deals of the week are valid until Sunday January 7, 2018 and include:
Save 15% on A. Vogel
Save 15% on select OXO Tot
Save 30% on NOW Foods
Save 15% on Diet & Lifestyle Food Essentials
Save up to 20% on select Baby Bath & Skincare
Save up to 25% on select Multivitamins
Save 25% on All Progressive
Save up to 25% on New Cleaning Routine – Exclusions Apply
Save 15% on Clek
Save 15% on Cloth Diapers
Save 15% on select Diet & Weight Loss
Save 20% on Parasol Co. Diapers
Save 25% on Live Clean
Save up to 20% on select Winter Essentials
Save 30% on Webber Naturals
Save up to 20% on Vega
Save up to 20% on Treats for the Bath
Save 25% on Neostrata
Save 20% on Bravado
Save 25% on Hatchimals Surprise Egg
Save 40% on Melissa & Doug Star Diner Restaurant
Save 20% on Baby Bottles & Nipples
Save 15% on Our Favourite Cloth Diaper Accessories
Save 15% on Love Child Organics
Save 20% on Diva Cup
Save 25% on Tints of Nature
Save 10% on Hand Sanitizers & Wipes
Save 20% on The Chemistry Brand
Save 15% on Lily of the Desert
Save 20% on LaVigne Organic Skincare
Save 20% on Bliss
Save 30% on Garnier
Save 15% on Protein Bars & Snacks
Save up to 20% on Detox & Cleanses
Save 15% on NOVA Probiotics
Save 25% on SmartyPants
Save 15% on Halfmoon Yoga
Save 20% on Buff Bake
Save 15% on Homeocan
Save 10% on Biosteel
Save 15% on Ricola
Save 25% on Cold-FX
Save 10% on Super Human
Save 10% on Beverages with Benefits
Save 20% on Crofter's Organic
Save 15% on Justin's Nut Butter
Save 15% on 23 Degrees Roastery
Save 20% on Wolfgang Puck
Enjoy FREE shipping on all online orders of $35 or more.