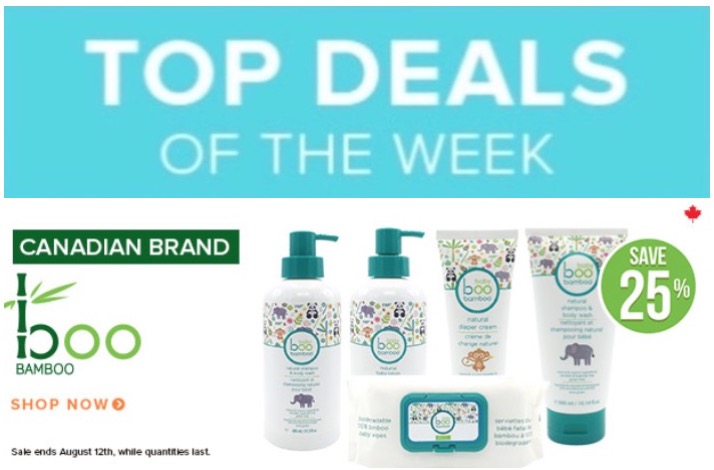 Well.ca Canada has released their new top deals of this week! The Well.ca deals of the week are valid until Sunday, August 12, 2018, and include:
3 Step Sale: Save up to 20% off select Cleansers, Toners and Moisturizers
Save up to 30% on Multivitamins
Save 25% on Green Beaver
Save 25% on SISU
Save up to 20% on Aromatherapy, Diffusers & Wellness
Save up to 20% on Non-GMO Foods
Save 40% on Nature's Bounty
Save up to 20% on the Men's Shop
Save up to 20% on Cereal, Syrups & Spreads
Save 20% on Skip Hop Backpacks, Lunch Bags & Lunch Containers
Save 20% on Renew Life
Save 20% on Klean Kanteen
Save up to 20% on Fragrance Free Cleaning
Save up to 50% on Suncare Clearance
Save up to 50% on The Summer Blowout
Save up to 40% on Baby & Kids Sun Hats
Save 15% on Goodbyn
Save 15% on Thermos
Save 15% on LunchBots
Save 20% on Crocodile Creek
Save 15% on Kids Konserve & U-Konserve
Save 15% on Colibri
Save 15% on Abeego
Save 15% on Sugarbooger
Save 20% on Select Diono
Save 10% on Select Peg Perego
Save 20% on Burt's Bees
Save 20% on Hylamide
Save 20% on Alba Botanica
Save 25% on Boo Bamboo
Save 20% on Schmidt's
Save 20% on John Masters Organics
Save 20% on All Good
Save 15% on Grow Gorgeous
Save up to 20% on Hair Tools
Save 25% on Maybelline
Save 20% Hugo & Debra Naturals
Save 20% on Organ(y)c
Save 15% on meow meow tweet
Save 20% on Surya Brasil
Save 25% on Love Beauty and Planet
Save 25% on Natural Being
Save 20% on Geratherm
Save 15% on Fluf
Save 15% on Monbento
Save 25% on Sapadilla
Save 20% on Ecover
Save 20% on Lumiere de Sel
Save 15% on Genuine Health
Save 20% on Homeocan
Save 20% on Nature's Plus
Save 10% on bkr
Save 20% on Hydralyte
Save 15% on A. Vogel
Save 20% on Pasta & Grains
Save 15% on MadeGood
Save 15% on Enjoy Life
Save 15% on Koukla Delights
Save 15% on Patience Fruit & Co.
Save 15% on Filsinger's Organic Foods
Save 15% on Select S'well Clearance, Sale ends Aug 31, 2018
Choose Any Two Different Zoku Products and Save 25%, Sale ends Aug 30, 2018
Enjoy FREE shipping on all online orders of $35 or more.
Click here to get all Well.ca sales of the week.