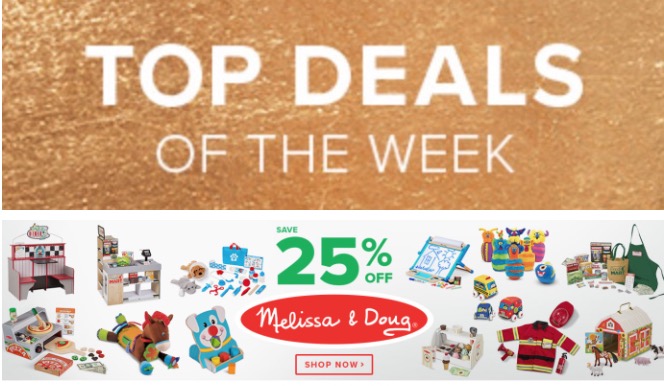 Well.ca Canada has released their new top deals of this week! The Well.ca deals of the week are valid until Sunday, November 4, 2018, and include:
Save up to 25% on Diet & Fitness
Save 25% on Melissa & Doug
Save up to 20% on Gluten Free Foods
Save up to 20% on Baby Bath & Skincare
Save up to 20% on Coffee & Tea
Save up to 20% on Oral Care
Save up to 15% on Top Natural Hair, Bath & Body
Save 20% on Baby & Kids Oral Care
Save up to 25% on Beauty Supplements
Save 25% on New Chapter
Save up to 20% on Green Essentials for your Home & Kitchen
Save up to 20% on the Cold Weather Shop
Save $10 off Gro Clock
Save up to 20% on Select Halloween
Save 20% on St. Francis Herb Farm
Save 20% on Pacifica
Save up to 20% on Whimsical Creatures
Save 20% on Sippy's & Cups
Save 20% on Ubbi Diaper Pails & Liners
Save 20% on Dapple
Save 20% on Mineral Fusion
Save 20% on Nivea
Save 20% on Essie
Save 20% on Sarabecca
Save 20% on Yes To
Save up to 20% on Men's Shop
Save 20% on Hair Brushes & Accessories
Save 20% on Oneka Elements
Save 15% on Druide
Save 20% on Hubmar
Save 20% on Always Bearded Lifestyle
Save 25% on Love Beauty & Planet
Save 20% on Platinum Naturals
Save 20% on IronVegan
Save 20% on Nature's Way
Save 25% on Amazing Grass
Save 15% on NOVA Probiotics
Save 20% on Hyland's
Save 20% on Nova Scotia Organics
Save 20% on Hero Nutritionals
Save 15% on Innovite Health
Save 20% on Everlast
Save 15% on think! Bars
Save 15% on The Ginger People
Save 15% on Maison Orphee
Save 15% on SunButter
Save 10% on Sea Snax
Save 20% on Boulder Canyon Natural Foods
Save 15% on Onyx Containers
Save 20% on Sexual Wellness
Save 15% on Select S'well Clearance, Sale ends Dec 31, 2018*
Enjoy FREE shipping on all online orders of $35 or more.
Click here to get all Well.ca sales of the week.