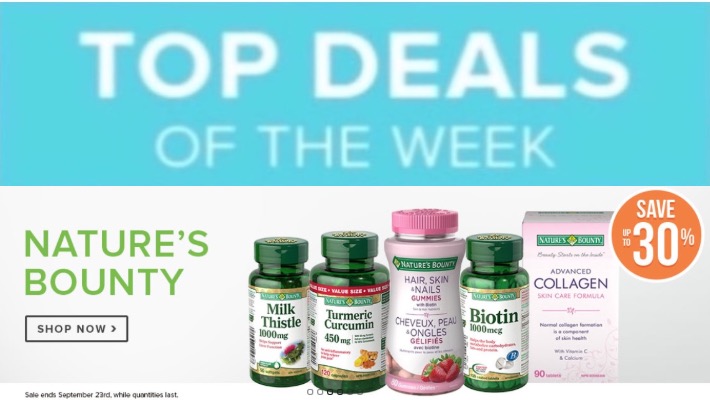 Well.ca Canada has released their new top deals of this week! The Well.ca deals of the week are valid until Sunday, September 23, 2018, and include:
Save up to 30% on NOW Foods
Save up to 20% on Hair Care
Save up to 20% on Gluten Free Foods
Save 15% on Natural Cleaning Supplies
Laundry Event: Save up to 20%
Save 20% on Dr. Hauschka
Save up to 25% on Natural Makeup
Save up to 20% on All Oral Care
Save 15% on All Swaddling Blankets & Sleeping Bags
Save up to 20% on Coffee & Tea
Save up to 20% on Keto Foods
Save 25% on New Chapter
Save up to 20% on CanPrev
Save up to 30% on Nature's Bounty
Save up to 20% on Toddler & Preschool Toys
Save 20% on Parasol Co. Diapers
Save 25% on Boo Bamboo
Save 20% on Baby's First Wardrobe
Save 15% on 3 Sprouts Nursery & Playroom Storage
Save 15% on Belly Bandit Pre & Post Pregnancy Wear
Save up to 15% on Sound Therapy Night Lights & Clocks
Save 15% on Select Mattress Pads & Covers
Save 15% on Ubbi Diaper Pails & Liners
Save up to 20% on The Men's Shop
Save 20% on Consonant Skincare
Save 20% on Schmidt's
Save 20% on CeraVe
Save 20% on Sukin Skincare
Save 25% on Physicians Formula
Save up to 20% on a Cozy Night In
Save 25% on Kiss My Face
Save 15% on Kalaya Naturals
Save 20% on Acure
Save 30% on Every Man Jack
Save 25% on Sibu Beauty
Save 25% on Living Nature
Save 15% on Captain Blankenship
Save 25% on Preserve
Save 15% on Herbs, Spices & Seasonings
Save 20% on Eden Organic Foods
Save 20% on Manitoba Harvest
Save 20% on LaraBar
Save 20% on PUR Gum
Save 15% on Chimes
Save 15% on Wedderspoon
Save 15% on Crofter's Organic
Save 15% on Justin's Nut Butters
Save 20% on Navitas Naturals
Save 15% on Maison Orphee
Save 20% on Dandies Marshmellow
Save 10% on Neal Brothers
Save 15% on Thai Kitchen
Save 15% on Hardbite Chips
Save 20% on Broya
Save 20% on Orange Naturals
Save 20% on Gaiam
Save 15% on Sproos Collegen
Save 25% Holista
Save 20% Solo Bar
Save 20% on Hyland
Save $5 on SoundSpa
Save 20% on Dymatize Nutrition
Save 15% on Dog Supplements & Health Care
Save up to 20% on Nellie's All-Natural
Save 20% on Now Designs
Save up to 50% on Select Backpacks & Totes
Save 20% on Maple Leaf Travel
Save 25% on Top Vibrators
Save 15% on Select S'well Clearance, Sale ends Dec 31, 2018
Enjoy FREE shipping on all online orders of $35 or more.