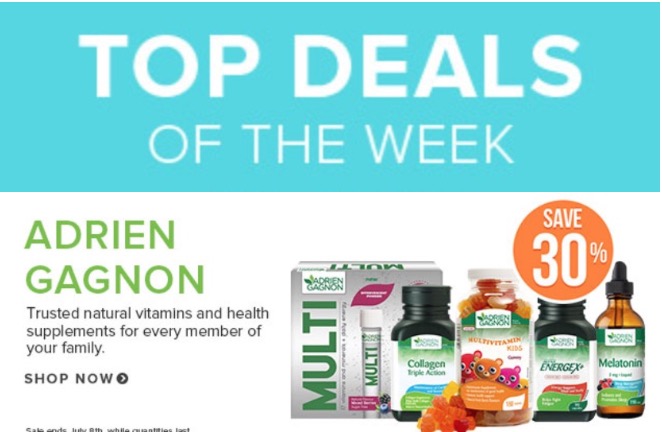 Well.ca Canada has released their new top deals of this week! The Well.ca deals of the week are valid until Sunday, July 8, 2018, and include:
Save up to 15% on Facial Skincare
Save 15% on Snuggle Me
Save 20% on Aleva Naturals
Save 20% on Attitude
Save 20% on All Progressive
Save up to 15% on Summer Healthy Pantry Essentials
Save up to 25% on The Yoga Shop
Save 25% on Goddess Garden
Discover Something New in Personal Care & Save Up To 20%
Save up to 20% on Body Wash
Save up to 20% on Top Food Items
Save 15% on AOR Vitamins
Save up to 15% on Outdoor Baby Gear
Save 20% on Baby's First Wardrobe
Save up to 40% on Summer Fun Favourites
Save 10% on Paleo Diet Foods
Save 20% on Mustela
Save up to 15% on Dress Up Your Nursery
Save 15% on AppleCheeks
Save 15% on Boon
Save up to 30% on Select Lego
Save 15% on Kidsme
Save 20% on Select Globber
Save up to 20% on Backyard Activities
Save 20% on Select Beach Toys
Save 20% on beautyblender
Save 20% on Routine
Save up to 20% on Get a Summer Glow
Save 25% on Green Cricket
Save 20% on Alaffia
Save 20% on Oneka
Save 20% on Veet
Save 15% on Captian Blanketship
Save 20% on Swiss Natural
Save 30% on Adrien Gagnon
Save 20% on Nature's Way
Save 25% on Smartypants
Save 15% on Botanica
Save 15% on NOVA Probiotics
Save 25% on Amazing Grass
Save 20% on Bach
Save 20% on Band-Aid
Save 20% on Polysporin
Save 20% on Herbaland
Save 25% on Ener-C
Save $100 on Muse The Brain Sensing Headband
Save 20% on Kind Healthy Snacks
Save 15% on Justin's
Save 15% on Kettle Brand
Save 15% on Let's Do Organic
Save 15% on Spokes
Save up to 25% on Cloths, Wipes, Gloves & Mops
Save up to 20% on Travel Mugs
Save 20% on Maple Leaf Travel
Save 25% on Top Vibrators
Save 20% on Durex
Save 20% on Geratherm
Save 25% on K-Y Jelly
Save up to 20% on Select Beauty
Save up to 25% on Select Home & Lifestyle Products
Save up to 15% on Select Health & Vitamins
Save up to 20% on Select Diet & Fitness
Choose Any Two Different Zoku Products and Save 25%, Sale ends Aug 30, 2018
Save 15% on Select S'well Clearance, Sale ends Aug 31, 2018
Enjoy FREE shipping on all online orders of $35 or more.
Click here to get all Well.ca sales of the week.