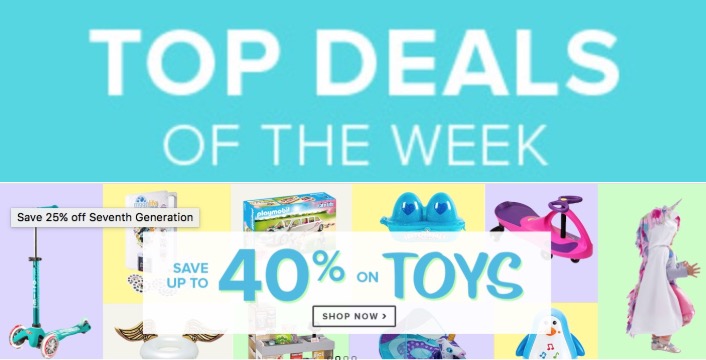 Well.ca Canada has released their new top deals of this week! The Well.ca deals of the week are valid until Sunday, June 24, 2018, and include:
Save up to 40% on Toys
Save 25% on Seventh Generation
Save up to 25% on Our Best Green & Natural Sunscreens
Save 10% on Select Protein Powders
Save up to 20% on Non GMO Food
Save up to 25% on Swim & Sunwear
Save 15% on Top Natural Hair, Bath & Body
Save 25% on Lorna Vanderhaeghe
Save 30% on Webber Naturals
Save up to 20% on Beauty Buys Under $30
Save 10% on Protein Bars & Snacks
Save 20% on Select Diono. ends Jun 30, 2018
Save 20% on Alba Botanica
Save 20% on Burt's Bees
Save up to 20% on Maternity Must Haves
Save 15% on Diaper Pails & Liners
Save 20% on Elvie
Save 15% on Marcus & Marcus
Save 15% on Eco by Naty
Save 25% on Boo Bamboo
Save 15% on Thirsties
Save 15% on Bio-Kinetics
Save 15% on Nosh
Save 25% on Neostrata
Save up to 10% on Lavender Favourites
Save 25% on Braun
Save 20% on Skin Essence Organics
Save 25% on L'Oreal
Save 20% on The Matter Company
Save 30% on North American Hemp Co.
Save 25% on Maybelline
Save up to 20% on After Sun & Aloe
Save 20% on The Chemistry Brand
Save 20% on Graydon Skincare
Save 20% on LaVigne Skincare
Save 20% on Wildcraft
Save 20% on Nivea
Save 20% on Radius
Save 20% Mabrook & Co.
Save 20% on Lafe's
Save 30% on Decode
Save 25% on Select New Chapter
Save 20% on Renew Life Probiotics
Save 15% on Nordic Naturals
Save 20% on Natural Calm
Save 20% on Prairie Naturals
Save 20% on Corksicle
Save 20% on Homeocan
Save 20% on Hydralyte
Save $100 on Muse The Brain Sensing Headband
Save 20% on Disney Gummies
Save 25% on Sapadilla
Save 20% on Ecover
Save 20% on Lumiere de Sel
Save up to 20% on Summer Food Essentials
Save 15% on Clif Bar
Save 15% on Thai Kitchen
Save 20% on Salt Spring Coffee
Save 10% on Filsinger's
Choose Any Two Different Zoku Products and Save 25%
Save up to 30% on Select Food & Snacks
Save 15% on Select S'well Clearance, ends Aug 31, 2018
Enjoy FREE shipping on all online orders of $35 or more.