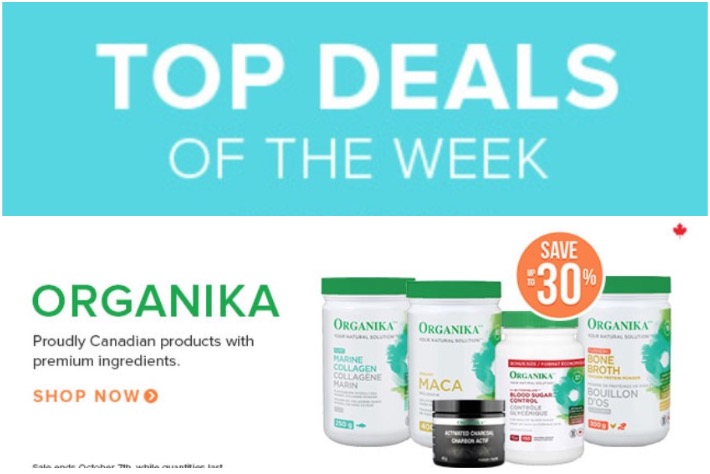 Well.ca Canada has released their new top deals of this week! The Well.ca deals of the week are valid until Sunday, October 7, 2018, and include:
Save up to 15% on Facial Skincare
Save 25% on The Honest Company
Save up to 25% with the Soap, Bath & Shower Event
Save up to 20% on Aromatherapy, Diffusers & Wellness
Kitchen Event: Save up to 15%
Save up to 30% on Organika
Save 20% on Bravado – National Breastfeeding Week
Save up to 20% on Smart Snacking
Save 20% on Badger
Save 15% on select Baby Slings & Carriers
Save up to 20% on Renew Life
Save 20 on St. Francis Herb Farm
Save up to 25% on our Top Children's Vitamins & Supplements
Save 10% on Cereal, Syrup & Spreads
Save 20% on Weleda Baby
Save 15% on Munchkin
Save 20% on Arts & Crafts
Save 20% on Halo SleepSack
Save 20% on Green Toys
Sale ends Oct 7, 2018*
Save 20% on Burt's Bees
Save 10% on Natural Stick Deodorant
Save 15% on Grow Gorgeous
Save 20% on NuMe
Save 25% on Maybelline
Save 20% on butter LONDON
Save 15% on Crate 61
Save 10% on Dr. Mist
Save 20% on Bathorium
Save 25% on Mountain Sky Soap
Save 15% on Genuine Health
Save 15% on Nordic Naturals
Save 20% on Nalgene
Save 20% on Himalaya Herbal Healthcare
Save 15% on Lily of the Desert
Save 20% on Martin & Pleasance
Save 15% on Enerex Botanicals
Save 25% on Jamieson Cold & Flu Formulas
Save 20% on Wild Rose
Save 10% on Natural Dish Soaps
Save 15% on Umbra
Save up to 20% on Fair Trade Food
Save 15% on La Tourangelle
Save 20% on Naked Coconuts
Save 15% on Enjoy Life*
Save 20% on Wolfgang Puck
Save 15% on Tutti Gourmet
Save 15% on Dr. Schar
Save 15% on Filsinger's Organic Foods
Save 15% on Select S'well Clearance, Sale ends Dec 31, 2018*
Enjoy FREE shipping on all online orders of $35 or more.
Click here to get all Well.ca sales of the week.