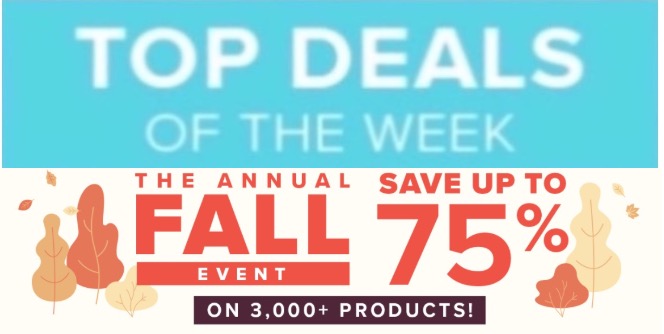 Well.ca Canada has released their new top deals of this week! The Well.ca deals of the week are valid until Sunday, September 30, 2018, and include:
Save up to 75% on Overstock
Save up to 25% on The Vitamin Event
Save 25% on Live Clean
Save up to 20% on Non GMO Food
Save 10% on select Protein Powder
Save 15% on Deodorants
Save 20% on Progressive Vitamins
Save 20% on All Baby Bottles & Nipples
Save up to 20% on Imaginative Play
Save up to 20% on Our Favourite Fragrance Free Cleaning
Save up to 20% on Maternity Essentials
Save 10% on Bar Soaps*
Save 15% on Sippy's and Cups*
Save 25% on Aura Cacia
Save 25% on Goddess Garden
Save 20% on Mustela
Save up to 15% on Bedding
Save 20% on Aveeno
Save 20% on Bumkins
Save 15% on fridababy
Save 15% on Jack N Jill
Save 25% on mifold
Save 15% on select Britax Car seats
Spend $75 on Vapour Organic Beauty & Receive a Free Crystal Lip Gloss Using COUPON CODE: VAPOUR
Save up to 20% on Facial Masks
Save 20% on Eucerin
Save 15% on Nail Polish
Save 20% on Cake Beauty
Save 30% on Garnier
Save 15% Crawford Street
Save 20% on Zuzu Luxe Cosmetics
Save 15% on Anointment Natural Skin Care
Save 25% on Love Beauty And Planet
Save 20% on Essential Oxygen
Save up to 25% on select Lubricants
Save 15% on Reusable Snack & Sandwich Bags*
Save up to 20% on Coffee & Tea Accessories
Save up to 20% on Air Fresheners, Deodorizers & Room Sprays
Save 20% on ecover
Save 25% on Sapadilla
Save 15% on J.R. Watkins
Save 20% on Lumiere de Sel
Save 15% on E-Cloth
Save 10% on Moss Creek Wool Works
Save 20% on Common Good
Save 20% on Homeocan
Save 15% on B Yoga
Save up to 25% on Cold & Flu Treatment
Save 15% on Innovite Health
Save 25% on Pure Protein
Save 20% on Tylenol
Save 20% on Rootalive
Save 15% on Think! Protein Bars
Save 25% on Barlean's
Save 15% on Living Alchemy
Save 15% on Kicking Horse Coffee
Save 15% on Gogo Quinoa
Save 15% on Chickapea Pasta
Save 15% on Uncle Lee's Tea
Save 20% on Pacific
Save 10% on Late July Crackers & Chips
Save 15% on Farmer's Market
Save 15% on Select S'well Clearance, Sale ends Dec 31, 2018*
Enjoy FREE shipping on all online orders of $35 or more.